Joined

Nov 10, 2016
Messages

2,657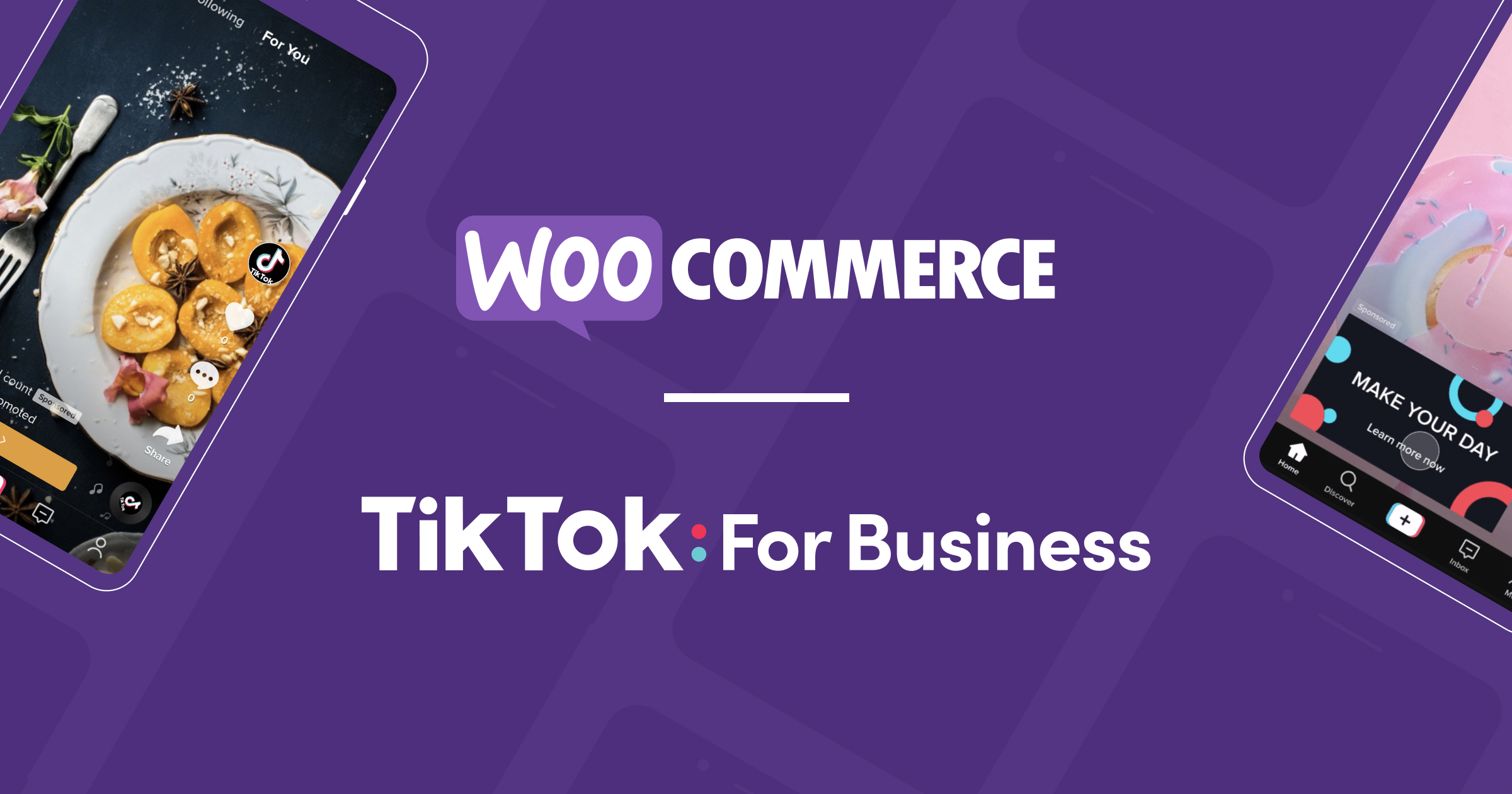 Connect your WooCommerce store to TikTok to reach new audiences, promote your products, and build your brand's personality. Find out how in our guide to TikTok marketing.
woocommerce.com
TikTok for Business Blog
May 25, 2022
The new
TikTok for WooCommerce
extension allows you to get your business up and running on TikTok quickly and conveniently. Sync your store, create ads using your product catalog, and track campaign performance — all from your store's dashboard. Read on for TikTok marketing tips, how to get started, and the different ways you can advertise your products.
Connect your WooCommerce store to TikTok​
Organic content is a great way of gauging which topics or content styles are most popular with your users – but it will only get you so far. Paid advertising will enable you to amplify your content to new audiences, and give you valuable insights as to how they're engaging with your brand.
When you install the
TikTok for WooCommerce extension
and connect your store to your TikTok For Business account, you'll have a simpler and faster way to advertise on TikTok using four main features:
1. Sync your store catalog with TikTok​
Syncing your WooCommerce product catalog to TikTok makes it simple to create and run product-based ad formats like
Collection Ads
and
Dynamic Showcase Ads
. Once synced, any new products you add to your store will automatically be available to advertise in TikTok.
2. Quick ad creation tools​
Get started with ad creation by selecting "Create an Ad" right from your dashboard.
From there, you can upload a video file or use the Smart Video Generator to create video ads using your product images and pre-built templates.
3. An advanced TikTok Pixel​
With the TikTok for WooCommerce extension, you'll be able to install the TikTok pixel on your store in just a click. Use the advanced matching capabilities to increase the visibility of your ads to the right shoppers and maximize your return on ad spend.
4. Engaging ad formats​
In-Feed Ads: Connect with users on their For You page (the first thing they see when they open the app) with full-screen ads using your own existing videos or the Smart Video Generator.
Spark Ads*: Boost any organic TikTok post – either from your own account or from creators you work with.
Lead Gen Ads*: Collect new email addresses on TikTok with instant, customizable forms that integrate with CRM partners to make qualifying and converting leads even simpler.
Catalog-Based Ads: Once you sync your store, you can easily create product card ads with a full-screen landing page or customized video ads directly from your product catalog.
*Available in
TikTok Ads Manager
Getting started as an advertiser on TikTok
only takes four steps: choosing a goal, selecting an audience, setting a budget, and designing an ad. But really making the most of it means knowing how it differs from other social platforms. Here are a few tips to help you get there.
1. Act natural​
Brands and businesses that find success on TikTok engage with their customers, and the broader TikTok community, in authentic and meaningful ways. People are quick to recognize videos that don't have that "TikTok feel" or assets that have been repurposed from other platforms and campaigns.
You should get your own personal account and familiarize yourself with the kinds of content your target audience appreciates. You'll start to understand why so many people love TikTok, and more importantly, get the inspiration and familiarity you need to create a successful first ad.
Dig into
TikTok best practices
(see below) before you start creating your content.
2. Find your audience and engage with them​
When looking for your audiences on TikTok, it's important to stop thinking about who they are and start thinking about what interests them. Connecting to groups or subcultures with common beliefs and ideas allows you to transcend categories like age, gender, and location. Brands that tap into the power of a subculture can see a massive lift in brand awareness and affinity.
By searching for a hashtagged interest or keyword on TikTok, you can immediately understand the kind of content your audience is engaging with. The more views a hashtag has, the more popular it is, but fewer views can also mean a more passionate and niche subculture that could be a potential opportunity.
Once you've found your target audiences through searching relevant hashtags, it's time to start the conversation. Here are a few tips:
When you find content from your audience, jump into the comments and show appreciation for their creativity. Get involved in the discussion and learn from what others are saying.
Check out what other businesses in your field are doing to gather ideas. Then, adapt them to your own brand. If you're a florist, you could browse #florist on TikTok to find inspiration from the most popular videos.
Conversations are a two-way street. Make sure to engage with your comment section.
3. Let your creative juices flow or connect with a pro​
TikTok is all about inspirational storytelling. You'll have all the tools you need in the palm of your hand – literally – but the creativity and passion starts with you and can't be faked.
If you do hit a roadblock, you can't go wrong by connecting with trusted
TikTok Marketing Partners
.
4. Collaborate with creators​
The magic of TikTok comes from its community, and TikTok creators play a key role. Creators are TikTok experts who can help you find new audiences and add authenticity to your messages.
The
Creator Marketplace
can quickly connect you with the right people to help elevate and expose your products to new audiences.
You can even benefit from existing, popular content through
Spark Ads
or
Duets
– two powerful, collaborative video formats that allow you to engage with and use posts your target audience already loves.
"Using the TikTok for business integration has been such an easy process and so beneficial to our business! Content creation is something that is so important to any business right now and with this new integration, it helps us grow our business and sales so much faster! Takes some time to set up the catalog with all products, but it's so worth it. Thanks, TikTok!"

–

Dijas Natural Foods

, WooCommerce merchant
Ready to keep learning?​
The TikTok for Business blog has great content to help you on your journey towards growing your TikTok presence and boosting your revenue. Here are some additional resources:
TikTok provides an amazing opportunity to connect with your audience in fun and exciting ways while staying true to your brand's creative voice. Unleash your full potential with
TikTok for WooCommerce
.